Mindfulness and the 12 Steps: Living Recovery in the Present Moment
Listed by Members of Recovery Passions
Calling All Readers! Like The Site Library?
Help Spread The Word...Tweet Our Crazy Awesome Awesomeness!
Sponsored Ad
go back to library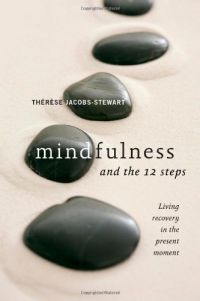 (click to view book on amazon.com)



Therese Jacobs-Stewart


In recent years, people of diverse social and religious backgrounds have embraced the Buddhist philosophy of mindfulness, or bringing one's awareness to focus on the present moment, to enrich their mental and spiritual lives. Through her experience as a counselor, a founding member of a Twelve Steps and mindfulness group, and a woman in recovery, Thérèse Jacobs-Stewart discovered a number of parallels between the practice of mindfulness and that of working the Twelve Steps, from the idea of living 'one day at a time' to the emphasis on prayer and meditation.

Mindfulness and the 12 Steps provides those in recovery with a new resource and fresh perspective for developing their own spiritual path. While revisiting each of the Twelve Steps, readers explore the interplay of ideas between mindfulness and Twelve-step traditions and learn to incorporate mindfulness into their path toward lifelong sobriety. Reflections and questions for inquiry are complemented by stories from Buddhist teachers and members of her mindfulness recovery group, as well as by the author's personal story of recovery as a practicing Buddhist.

Mindfulness and the 12 Steps will help awaken new thinking and insights into what it means to live fully—body, mind, and spirit—in the here and now.



People who list this book:



go back to library
What is Recovery?
Recovery News
Tools & Resources
Recovery Dating Sites
Online Dating Sites
Webcam Sites
Personals / Chat Sites
Instant Messaging/VideoChat
Miscellaneous